Australian Plait
How to tie the Australian Plait Knot. The Australian Plait is an excellent method to make a strong (100% line strength) double line. The finished knot has a low profile and will pass easily through the guides or rollers of the rod.
Scroll to see Animated Australian Plait below the illustration and tying instructions.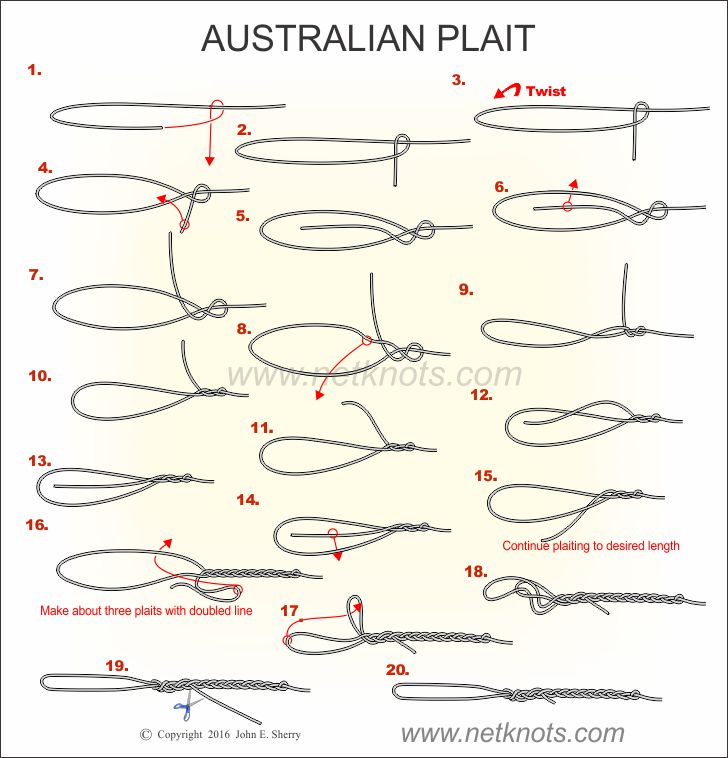 Australian Plait Knot Tying Instructions
Double the required length of line.


To begin plaiting or braiding the line, wrap the tag end back around the main line and then back between the strands of the double loop. Secure this starting point very tightly. This forms three strands coming down from the connection comprised of the two strands of the loop, plus the tag end.


Make alternating over-and-under wraps of the tag end through the loop with twists to the loop strands as illustrated in #'s 4 through 15. It's important that these plaits are tied tightly. This can be accomplished by keeping tension on the main line and by pinching the weave between your thumbs and fingers.


Continue to plait tightly as shown. The length of the plait depends on the line class and is subject to personal preference. The following guidelines may be used as a starting point.
1" - 1.5" for 6 lb and under
2" for 8 lb to 12 lb
3" for 16 lb to 20 lb
6" for 30 lb
8" for 50 lb and above


To complete the knot, form a loop with the tag end and continue to plait with the now doubled line of the tag end.
Make about three plaits with the doubled line.


Pull the doubled line through the loop as shown. Note that in the illustration the loop is shown quite small to save space. In reality the loop would be much larger.


Moisten the knot with saliva and tighten steadily. Trim the tag end. Some anglers like to apply a drop of superglue to the knot but many sport fishing captains say that is really unnecessary.