Egg Loop Knot
How to tie the Egg Loop Knot. Fish eggs and roe make excellent bait but they are difficult to attach to a hook. Use the Fish Egg Loop Knot to tie your own leaders that will accommodate using the eggs or roe. The Egg Loop is useful in Salmon and Steelhead fishing. After tying the knot push a little of the leader back into the hook eye to form the loop.
Scroll to see Animated Egg Loop Knot below the illustration and tying instructions.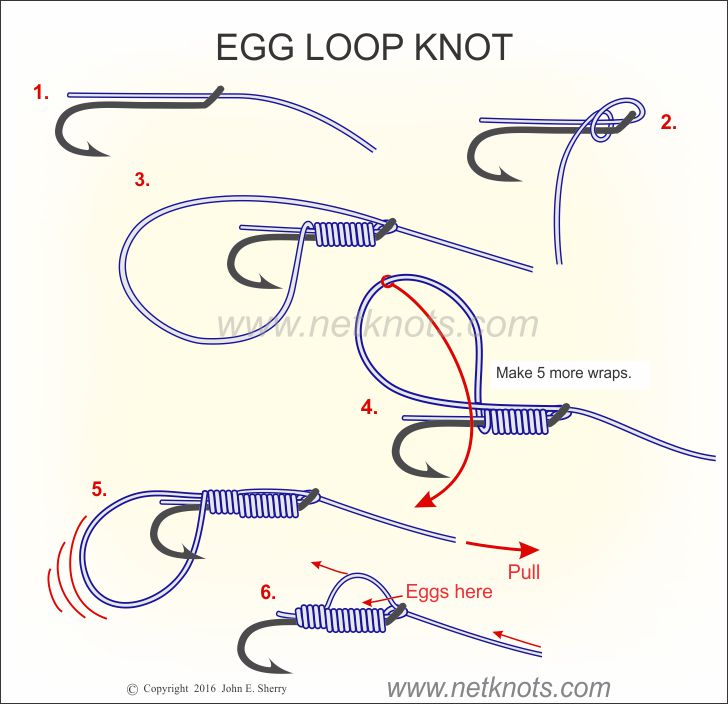 Egg Loop Knot Tying Instructions
Start with about 4 feet of leader and thread leader through hook eye to bend in hook. Hold in place with thumb and forefinger.


Make 10 - 20 tight wraps back toward bend in hook.


Hold wraps firmly in place and thread end of leader back through hook eye in opposite direction. 4. Make 5 more wraps.


Pull on leader to tighten down the knot.


Open up the line on top of the hook into a loop to hold the eggs or roe sack.