Girth Hitch
How to tie the Girth Hitch Knot. The Girth Hitch is a knot commonly tied with a sling of webbing, although rope can also be used. Other names for this knot are the Strap Knot and Bale Sling Hitch. It is used to attach a sling or a loop made of webbing to a harness, or rope or to create an anchor point. When climbing or canyoning it can be used as an anchor provided everything is clipped exclusively to the hanging loop. The danger with using a girth hitch as an anchor comes if a person were to clip in from the side or the back (for example, in an exposed approach if the hitch was around a large tree trunk and a person did not viually inspect or weight test the anchor), it would undo the girth hitch when weight was applied! All anchors should be inspected and tested before used to support one's weight.
The disadvantages of using a girth hitch as an anchor are several: the strength of the webbing is reduced by a large degree, they increase tree trunk damage due to the narrow contact points and most significantly they are only reliable if correctly loaded by the one end of the hanging loop.
Scroll to see Animated Girth Hitch Knot below the illustration and tying instructions.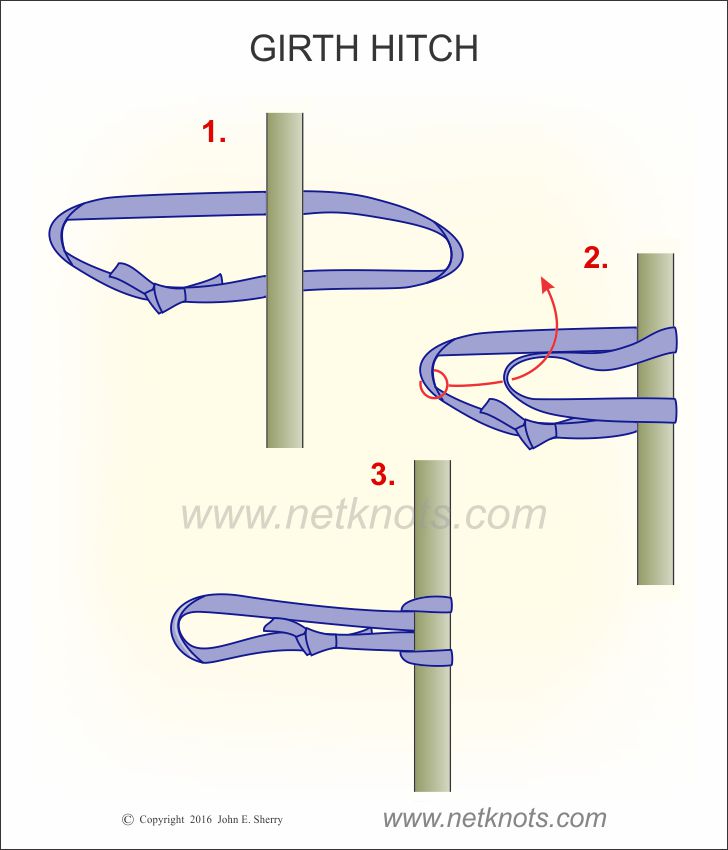 Girth Hitch Knot Tying Instructions
Place sling behind object (rope or post) to which it is to be attached.


Wrap right side loop over object and feed left side loop through the right side loop. Note: either loop can be fed through either loop.


Pull remaining loop away from object to tighten.